"Hope":
A Gripping Suspense Story From
Author Josephine Walker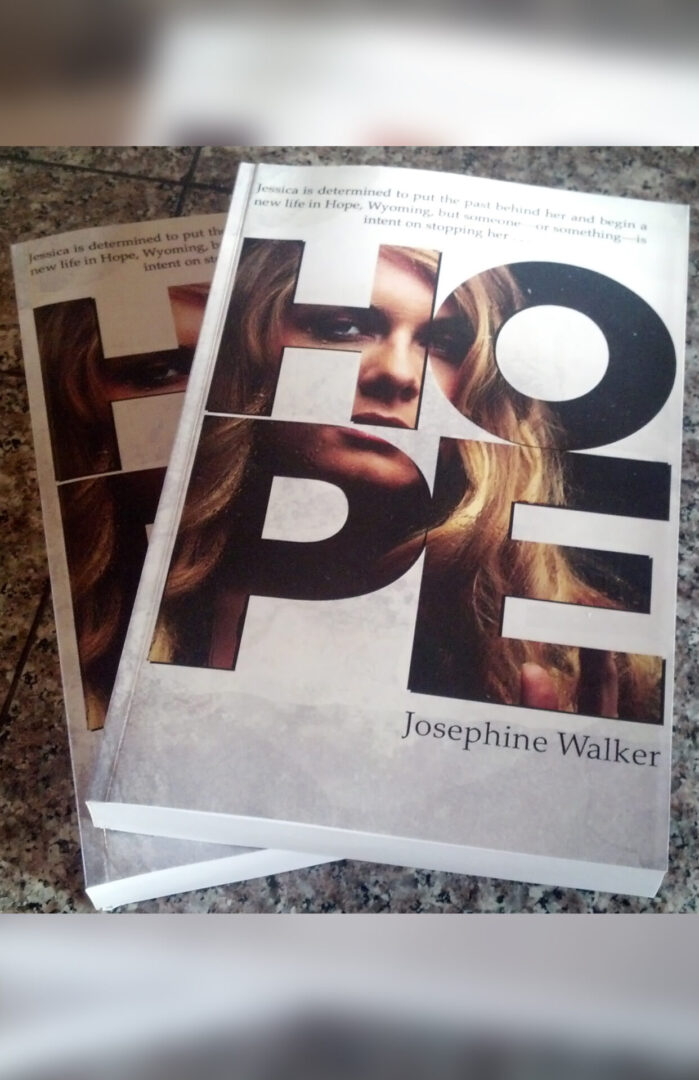 After two and a half years of deep depression, anger at God, and guilt over the death of her husband and twin girls, all bestselling romance writer Jessica Lynn Morgan wants is to buy a house, get back to writing, and live out her life alone in peace. And the little town of Hope, Wyoming, seems to offer the peace she needs. Or does it? Unfortunately, her dream house is rumored to be haunted. Not one to believe in ghosts, she fights for any logical explanation for the things happening that seem to warn her off. Once she moves in, the threat against her life becomes real. Clearly, someone or something wants her out. Now. And her stubbornness could cost Jessica her life.
Linda Cullison, Casper, WY
Hope lives up to its name in the story of real people with real life struggles. This book is a captivating story of mystery, danger, love and divine purpose. I didn't want to put it down.
Michelle Van Patten Crowley Summerville, So.Car.
I was given the opportunity to read the book "Hope". This is an exciting book that you will not want to put down. Jessica a widow who needs a new start moves to Wyoming and falls in love with a house that reminds her of her grand-parent's home. But why has it sat empty for so long and why do people think it's haunted. You must read the book to find out those details. The mysterious yet suspenseful story will keep you wanting more and you will also witness Jessica falling in love with Clint the very handsome Sheriff.
Steven Bryant, Great Falls, MT
This was a very enjoyable read. The story kept me riveted. The emotions ran from the dark to the light to fears and anger to joy and happiness. The mystery eluded me until the very end. I highly recommend both this book and this author.
"Hope" has all the makings for an intriguing romantic suspense: a romance writer still healing from a tragic past; a loyal dog; a haunted house with eerie occurrences; fear in the daytime and more fear at night; a handsome sheriff and loveable, young son. A very enjoyable read. Don't miss this one!
HOPE is an amazing story of courage and character. With honest hard working people, you begin to see the lies that some folks hold, unfold, in this suspense filled thriller. The imagination of Josephine Walker is amazing as you see true love unfold and real compassion shown in the lives of the citizens of Hope, Wyoming. I loved Nancy Drew and Hardy Boy mysteries as a kid, I have to say that Josephine Walker suspense filled mysteries are a new favorite for me.
1. On the edge of sleep, a truck's bright headlights glittered through the pouring rain and came head-on into my lane. I screamed and sat up in bed as pain grabbed me.
2. Unprepared for the physical and emotional pain that surged through my body, I rocked myself— like one rocks a baby—back and forth, eyes closed and sobbed. Moments turned to minutes. The tears refused to stop.
3. Everyone gone. Why God . . . Why? Will You ever answer?
4. Doris reached over from her chair and touched my hand and said, "Honey, I'm a simple woman; I don't have all the answers. The reality is no one understands it all, especially when things like this happen, but I truly do believe God has a plan and purpose for your life."
"So, you're saying it was God's plan and purpose for me to be a widow? For Dan and the girls to die?" I wanted to scream.
5. "Which do you prefer? Thinking someone is trying to prevent you from buying the house or the house is haunted?"
6. I walked through the dining room into the living room and stopped, riveted to the floor. In front of me was a huge, blood-red skull and crossbones painted on the board Clint used to patch the window. Lines of red paint trailed from the images down the board, onto the window sill to leave a few drops of the color on the floor that still looked wet. Inside my house.
7. He grinned, and then gave me the same kind of intense look Sam Elliot gave Tom Conte's wife in the movie, The Quick and the Dead. The kind that I felt clear down to my toes—and they were definitely feeling it.
8. "Honey, the healing of memories comes in many ways. Each person's journey is unique. As the old life passes on and sorrows fade, the new life becomes filled with fresh wonderful memories," she replied, and then added, "If we allow our hearts to heal the pain of the past, what's left are the good memories that entwine with brand new ones—if we're willing."